Splash Safer Shower
REDUCE SHOWER SLIP & FALLS
Revolutionary 'Safer Shower' injects soap, shampoo, conditioner, etc directly into the water stream."
According to a survey done by the CDC they establish that there are more than 234,000 non-fatal bathroom related injuries in the United States. This data helps to corroborate our assessment for a product that would help to lower these numbers. The CDC further reports that over 94,000 of these reported injuries were directly related to the bathtub and shower area.
Supported documentation
: http://www.cdc.gov/mmwr/pdf/wk/mm6022.pdf
We have designed a product that is geared toward reducing these numbers released by The United States Department of Human Services. Our research suggests to us that if we can eliminate one of the key components involved with accidents then we can significantly reduce these numbers.
A major cause of accidents is people reaching and trying to retrieve a drop bar of soap while showering. There is probably not one single person in the world that has not been faced with that challenge.
We would assume that when you are young and in excellent health, limber, agile and flexible that retrieving the slippery soap is no major task at all.
Consider this scenario: How will the people with limited mobility fare, let's consider the people who have arthritis in the back, are maybe amputees, then there are the individuals that fall in the special needs category. We have wounded military personal returning every day, patients being released from the hospital and told to take it very easy. We have people who are affected by various stages of obesity. This is  a fact rather you have thought of it or not; the reality is the problem exist and it is real for a considerable portion of our population.
The need is real. We have developed a product that connects between your existing shower pipe and shower head. This device will release liquid shower products directly into the internal stream of a shower. The device is equipped with an on/off control dispensing valve that regulates the amount of liquid dispense during showering. The device also is equipped with a refillable reservoir for quick and convenient interchanging of desired products.
The U.S. Department of Human Services also released additional study that identifies normal people age group 15 and older with no impairments make up a significant percentage of the 234,000 bathroom related injuries.
 SPLASH The Company
SPLASHCO, a California based company, which is American owned and operated. SPLASH is empowered to design, develop, manufacture, and sell the first SPLASH products, 'SaferShower' and 'ShowerSoaper'.  SPLASH, upon funding, will move forward with the manufacture of a new product designed in response to showering safety concerns for people with limited mobility and range of motion.  Splash Safer Shower is a shower fitting that attaches to the existing shower pipe, and to which any showerhead can be attached. The company is seeking donations and contributions to fund start-up, engineering, manufacture, marketing, sales, and distribution.
The genuine establishment of the Splash Safer Shower  is to create a safe environment for people with limited mobility's. To help with the challenge of soaping the entire body, getting soap to areas that can no longer be reached by hand, while producing a method to reduce the slip and fall accident rate due to shower injuries caused by people trying to pick up a dropped bar of soap, and efficiently providing a means of soaping when mobility impairments restrict.
Splash Safer Shower -Trying To Decrease Injuries

Our research has shown us that there are over 94,000 emergency room visits in the United States, due to accidents associated with bath tub and shower area.  Not only would a decrease in accidents be a benefit, but also our product would be a benefit to those who have difficulty or are unable to shower using a washcloth and bar of soap.  These include anyone with a condition that affects 'range of motion':
Arthritics
Amputees
Diseases Affecting the Muscles
Wounded Military Personnel
Disabilities
Non-Ambulatory Patients
Joint and Back Surgery Patients
Strokes
Special Needs
Recently Release Medical Patients
Different stages of obesity
Broken Bones – Hand, Arm, Collar
First Stage Of Project
There are three stages necessary for the Splash Safer Shower to become available to the public. The first stage is the development of the prototype, the second stage is the production of Splash Safer Shower for testing, and the testing of these fittings, next the final stage is the creation of the marketing and distribution campaign.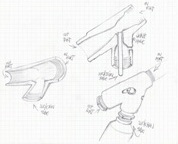 We are currently still involved with the building of our prototypes for this project. Any input, direction and help that we can receive along the way will be greatly appreciated.  Design to include ID Design and selection, 2D/3D modeling, Mockups, and testing procedure. 2 piece mock-ups made from SLA included and 4 piece machined prototypes.
The development of a mold for the prototype will cost approximately $30,000. An American based engineering company has been contacted for the development and manufacturing of the product.
After the completion of stage one, we will immediately initiate stage 2 to begin raising any additional funds necessary for the building of the mold so that the pre- development parts can be built, passed out and tested.
Because the need for this product is genuine and impact potential is so great, we are hoping to gain as much support and funds as possible for this project so that it is only necessary to run one campaign and raise a minimum of $100,000 to complete the entire project.
Patent Pending Status
ExCalibur has already invested thousands of dollars in the initiation of the intellectual rights for the Splash Safer Shower. Now that we have accomplished getting that part of the operation out of the way, we are in need of help with getting this project completed.
Need Help From All
We know this is a worthy and needed cause. With the dramatic increase in disabilities and limited mobility cases, it is imperative that we as a collective group of people do all we can to assist with the manufacturing and distribution of this much needed product.
I further believe that collectively we can get this project funded, we can find the right connections to handle each and every aspect of development, research and marketing that is needed. We all know someone and someone else knows someone and it can go on and on. Each one, spread to one and eventually all of the parts and pieces will come together. We do not know the power of networking until we physically see it working to the benefit of making life better for others.
I encourage everyone to tell someone, even if you are not able to donate, at least past this message on to others in your circle, your job, your church, your school, your social media platforms, your exercise facilities, even tweet about over and over again. And one day you will be able to say I played a roll in helping to get that product off the ground and into the homes of others.
If you would like to find out more about the Splash Safer Shower, or what you can do to help and how, please follow the directions listed on this site or contact us through the form listed below. We will furnish you with all the info you need. All we are asking for is help in making this product a reality and available. There is no doubt in my mind that there are plenty of people in this world that are willing and able to help. Why not start with You!
Alternative Method: Donations can be mailed directly to the company,  8533 Glendora Ave, Hesperia Ca 92344

Note: (No Personal Checks)